Please ensure a full understanding of all steps required for CNC milling: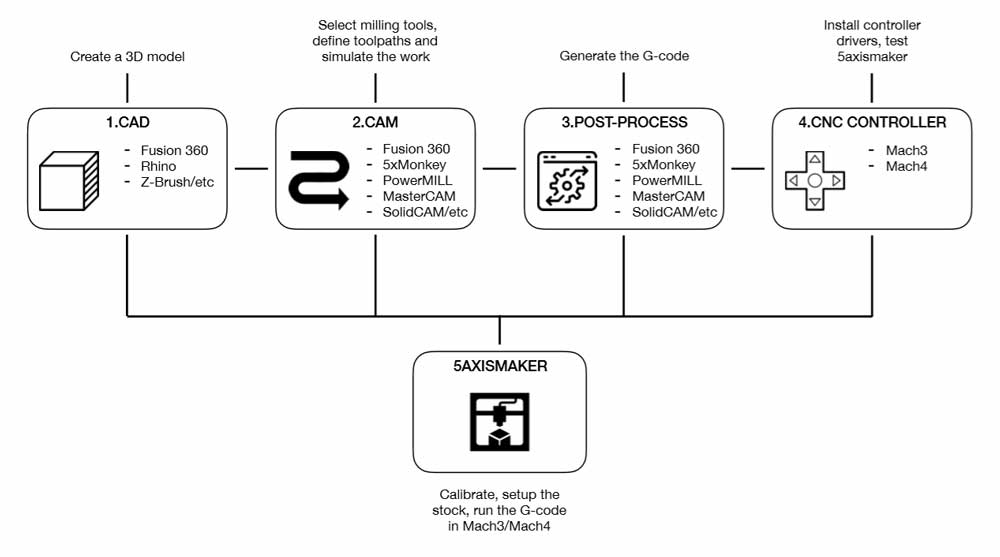 The following is the CNC workflow:
1. CAD (Computer-Aided Design): sketch and design the geometric model up to three dimensions.
2. CAM (Computer-Aided Manufacturing): select milling tools and assign toolpaths to each side of the model. We shall introduce an alternative software allowing to create a manufacturable design of the model.
Fusion360: is a cloud-based CAD/CAM tool that mainly provides an indexical (i.e. positional) machining, 3+2 axis.
5xMonkey: is a script for Rhino 3D Grasshopper 3D, an in-house made script developed by 5AXISWORKS to generate full 5-axis simultaneous G-code for running our 5XM.
3. Post-Process: generate G-code in the text format.
4. CNC Controller: install CNC controller software (i.e. Mach3 or Mach4) and load G-code.
3-axis, 3+2 axis, and 5-axis
This section will shed light on the multi-axis machining and draw a line between 3-axis, an indexical 3+2 axis, and full simultaneous 5-axis.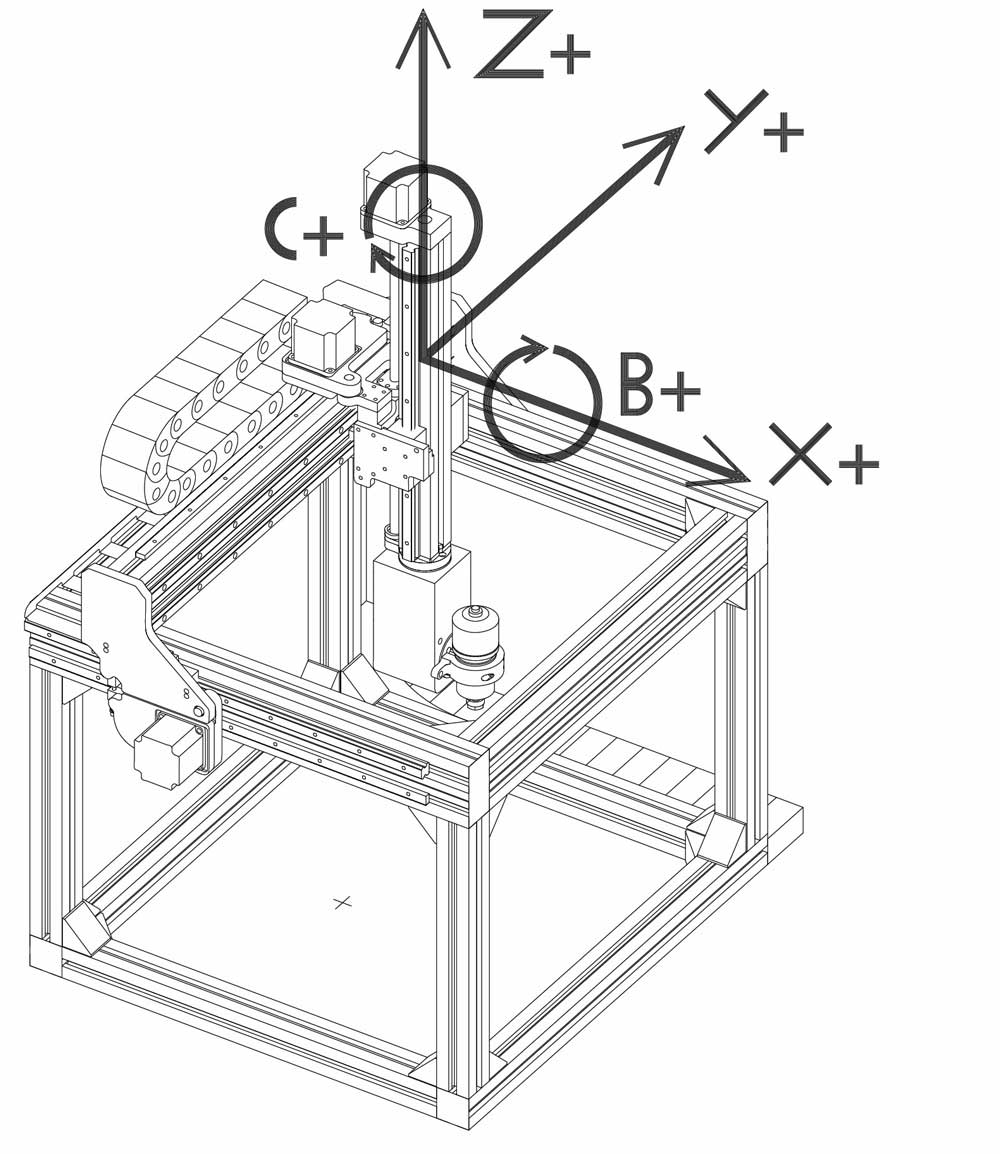 Let's begin with 3-axis, which can be simply described as three vectors in space, where Z-axis is established by the other two perpendicular vectors such as X and Y. Our vertical mill shifts along X and Y, while Z is denoted as the base for the spindle that can move either up or down.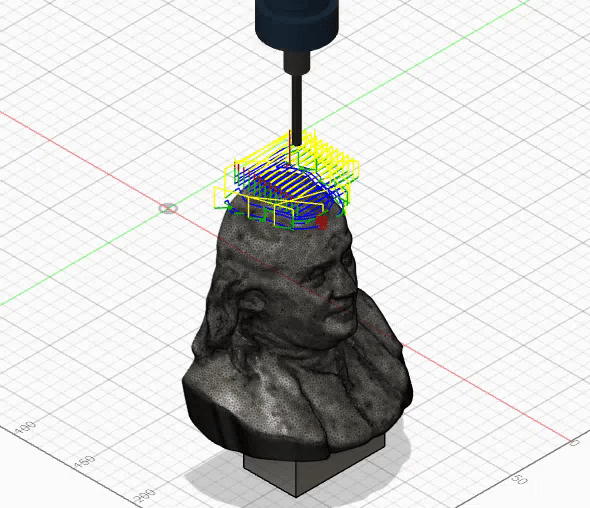 ---
When it comes to 5-axis, there are two main types of CNC machining which essentially vary by how 5-axis is employed.
Indexical 3+2 axis allows moving the main three axes during the milling process while the other two axes are responsible for repositioning from one spot to another, thus still operating as 3-axis. In other words, each section has its individual tool orientation, however, the tool orientation remains unchanged during the machining of this particular section.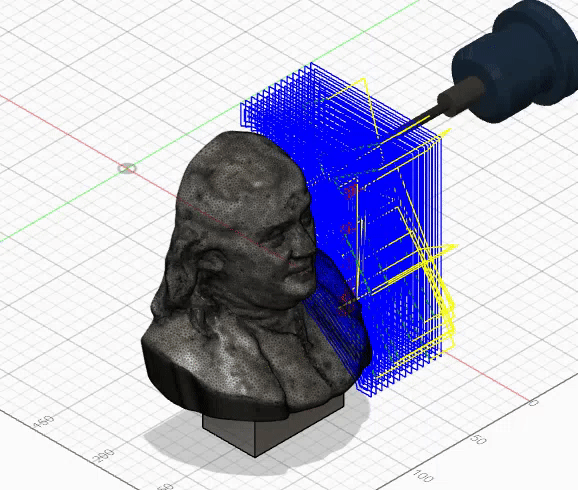 ---
Simultaneous 5-axis simply takes into account the movements of all five axes while the certain operation is being completed. Full simultaneous 5-axis milling is widely used in machining complex geometry and essentially reduces the overall machining time by avoiding extra stops between each machining operation.
Note: Be aware that this case study includes 3-axis and 3+2 axis machining operations only.
Content Outline:
3. File Setup: Prepare your file on selected software (i.e. 5xMonkey or Fusion360) to generate toolpaths that will essentially turn the digital model into physical parts.
Fusion360 presents a step-by-step guide on how to prepare your digital model. Principles of CAM systems and Post-Processor operation are shown in our example.
The main objective of the CAD/CAM system is to integrate the design engineering and manufacture engineering functions.
Familiarise yourself with our entry-level CAM solution for Rhino- 5xMonkey Grasshopper.
Understand a standard axis system (i.e. XYZ) by which the position of the work coordinates and machine coordinates can be specified.
- Fusion360 Step 2: Roughing Pass
Understand the capabilities of Computer-Aided Manufacturing (CAM) systems for designing complex parts and elements in 3D dimensions.
Evaluate from Fusion360 assisted simulation, the differences between cutting strategies of two main CAM settings: Pocket Clearing and Adaptive Clearing.
- Fusion360 Step 3: Finishing Pass
Overview of general finishing recommendations for machined parts. Review the most common finishes and their characteristics.
- Fusion 360 Step 4: Post-Processor Installation
Learn how to edit post-processors in Fusion360.
File Setup requires a number of steps: