Please ensure a full understanding of all steps required for CNC milling: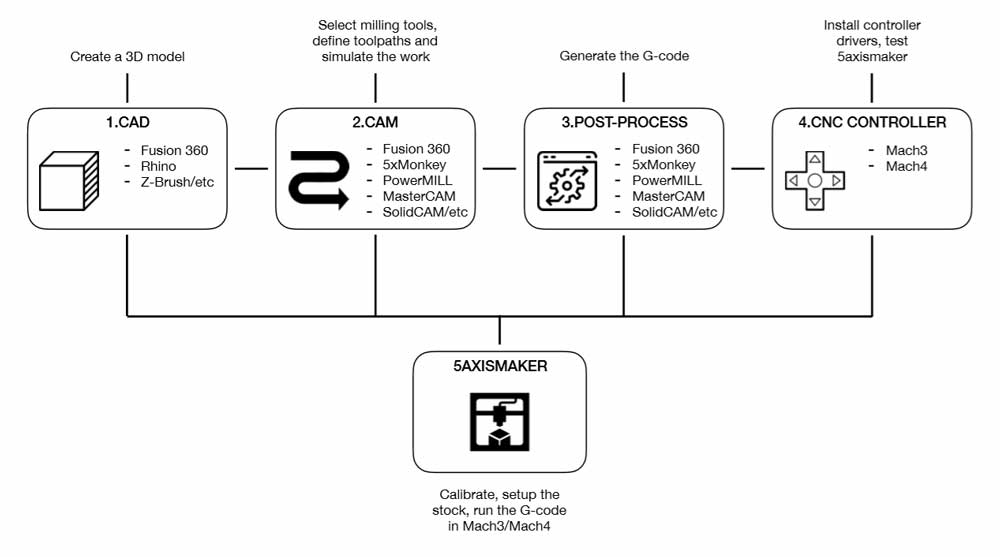 The following is the CNC workflow:
1. CAD (Computer-Aided Design): sketch and design the geometric model up to three dimensions.
2. CAM (Computer-Aided Manufacturing): select milling tools and assign toolpaths to each side of the model. We shall introduce an alternative software allowing to create a manufacturable design of the model.
Fusion360: is a cloud-based CAD/CAM tool that mainly provides an indexical (i.e. positional) machining, 3+2 axis.
5xMonkey: is a script for Rhino 3D Grasshopper 3D, an in-house made script developed by 5AXISWORKS to generate full 5-axis simultaneous G-code for running our 5XM.
3. Post-Process: generate G-code in the text format.
4. CNC Controller: install CNC controller software (i.e. Mach3 or Mach4) and load G-code.
3-axis, 3+2 axis, and 5-axis
The primary aim of this tutorial is to understand the concept of multi-axis and grasp the basic knowledge of 3-axis, an indexical 3+2 axis, and full simultaneous 5-axis machining. It is important to know the difference between the three, as well as being able to choose the appropriate software for each operation (i.e. we will operate on either Fusion 360 or 5xMonkey).
Why is multi-axis so important?
The knowledge of multi-axis and its expertise will allow you to find the most efficient approach removing the material of your stock while keeping up with the quality and the optimal machining time. Appropriate use of multiaxis machining implies fewer movements of the tool in the air and improved surface finish.
Why do I have to be selective of the software for working with either 3+2 or 5-axis machining strategies?
You should be aware that even if these two programs lead to the relatively same outcome, they still remain distinct in their own capabilities. In the case of 3-axis, 3+2 axis, and 5-axis operations, either of the software can be used.
You can perform an indexical 3+2 operation on Fusion 360, which is user-friendly software to work with. However, with the same application software, you would be more restricted if full simultaneous 5-axis is required, for which we offer 5xMonkey as an alternative software. Similarly, 3+2 axis operations can be performed on 5xMonkey as well.
Note: This section will allow us to work in Fusion360 only, for an alternative option please skip this part and proceed to 5xMonkey Tutorial.
This section will shed light on the multi-axis machining and draw a line between 3-axis, an indexical 3+2 axis, and full simultaneous 5-axis.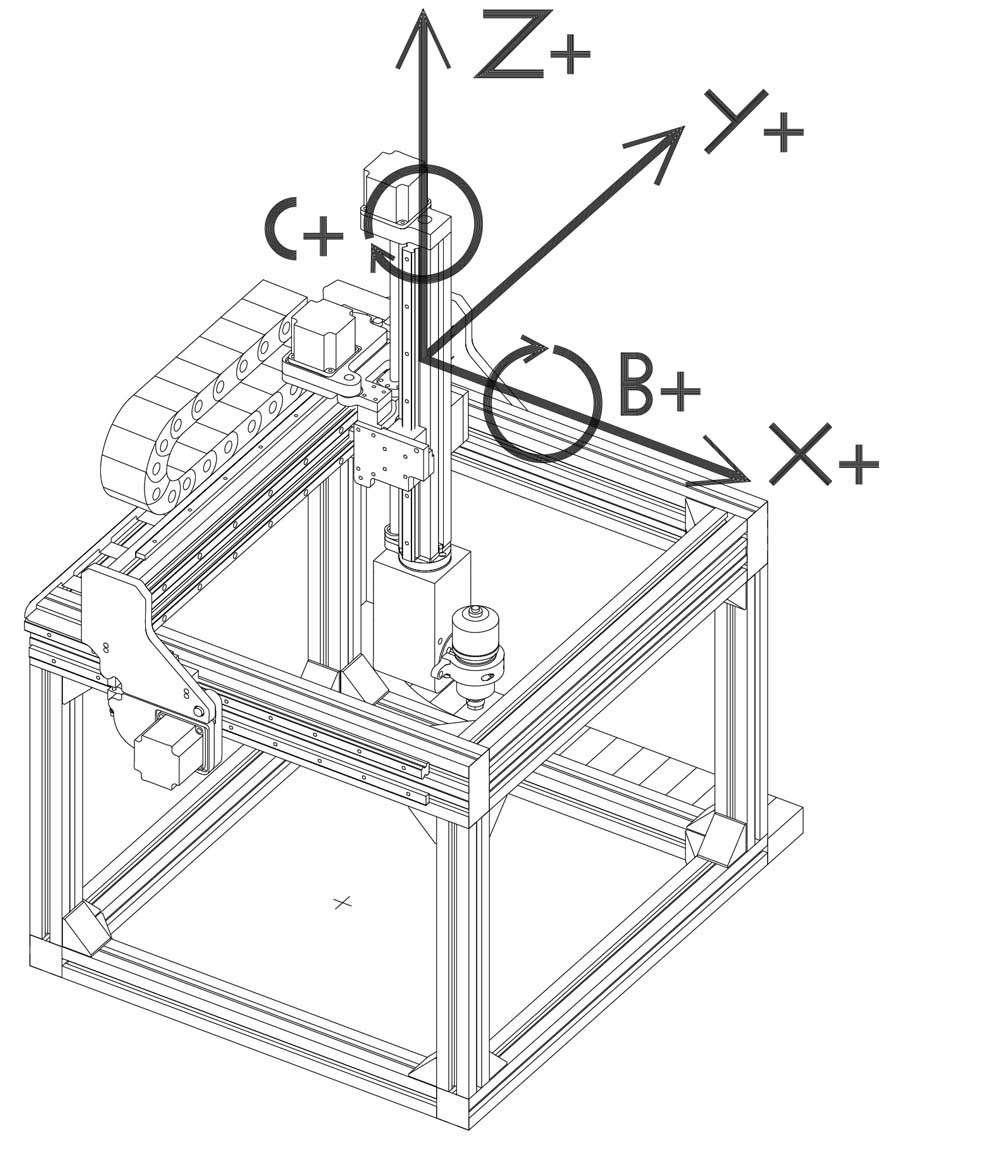 Let's begin with 3-axis, which can be simply described as three vectors in space, where Z-axis is established by the other two perpendicular vectors such as X and Y. Our vertical mill shifts along X and Y, while Z is denoted as the base for the spindle that can move either up or down.
---
When it comes to 5-axis, there are two main types of CNC machining which essentially vary by how 5-axis is employed.
Indexical 3+2 axis allows moving the main three axes during the milling process while the other two axes are responsible for repositioning from one spot to another, thus still operating as 3-axis. In other words, each section has its individual tool orientation, however, the tool orientation remains unchanged during the machining of this particular section.
---
Simultaneous 5-axis simply takes into account the movements of all five axes while the certain operation is being completed. Full simultaneous 5-axis milling is widely used in machining complex geometry and essentially reduces the overall machining time by avoiding extra stops between each machining operation.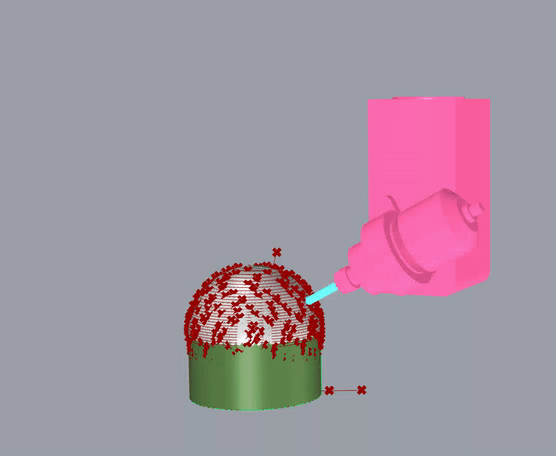 For more information on how to unpack 5XM proceed to Receiving Your Machine section.