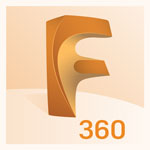 We've learnt how to prepare toolpath for a single aligner, this page explains how to setup a tray of multiple aligners. Follow description below to setup a set of 20 aligners in Fusion360.
This Multi Aligner Setup project is made up of multiple identical cloned "Aligner fixture(master)" component(s) that share the same origin and orientation within its co-ordinate system; anything that is added to them is duplicated along the field adjusting arbitrary to it's position in the field.
The position of the components are affected by the Aligner fixture(parent) origin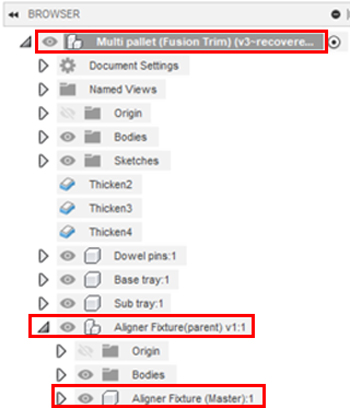 The project area has been has 3 main components "multi pallet(Fusion Trim)" serves as an area where bodies and sketches are created that will later need moving into respectable component folders
"Aligner Fixture(parent) v1:1" Parent component folder where STL/OBJ must first be inserted.
"Aligner Fixture(Master):1" refers to the primary Aligner fixture(starting point for your trimming operation) which has been copied a multiple amounts along the Fixture Base tray-field.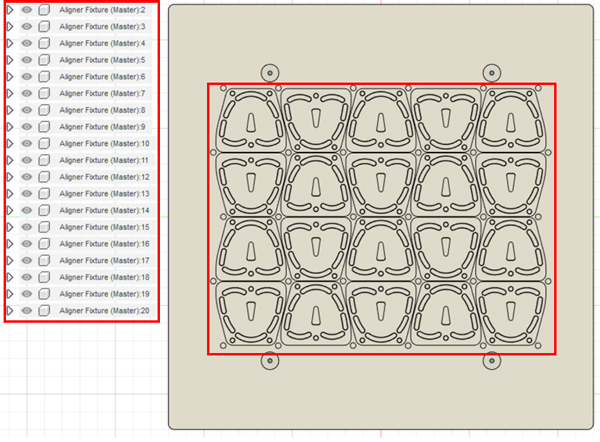 Each "Aligner Fixture(Master) component is a identical version from version;1 that has been indexed across the "Base Tray Fixture" field.
If any body/Sketch/Mesh is added into a single component folder, all active components will inherit a copy, that will be positioned relative to its position.
Before adding any items to the "Master" components it is important that before all body/sketch/mesh modifications are made in the "Parent" component prior.
It is important to name added body/sketches/mesh to correspond together.
STL/OBJ/MESH must be positioned first along the Aligner fixture field.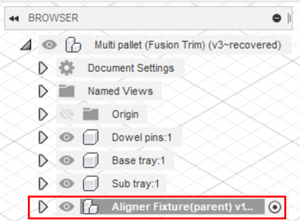 Activate this component and insert mesh here.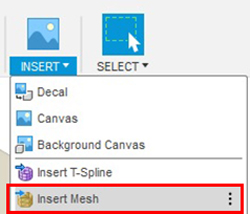 Use insert mesh and select arbitrary OBJ/STL file.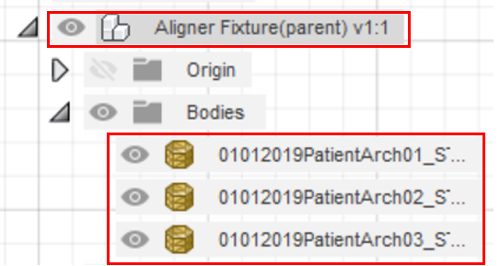 When inserting Different mesh, I would recommend naming them appropriately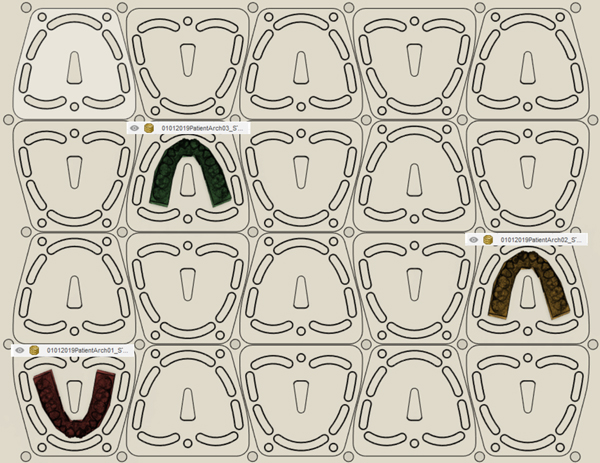 Changing the Mesh appearance colour is another way to identify changes along toolpath field.
Reduce mesh to lower count to appropriate amount for conversion into body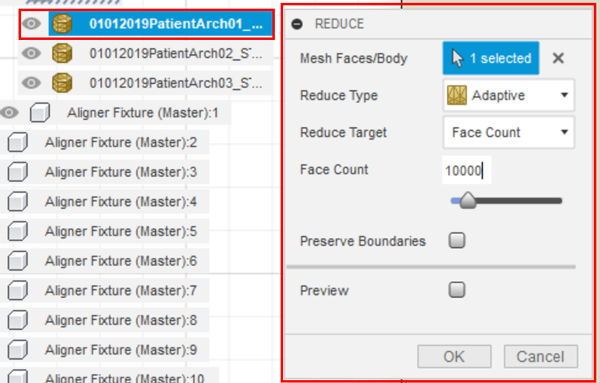 After reducing mesh use "MESH TO BREP" to create a body version

The new body will be created in Multi Pallet(Fusion Trim) body folder, rename the body.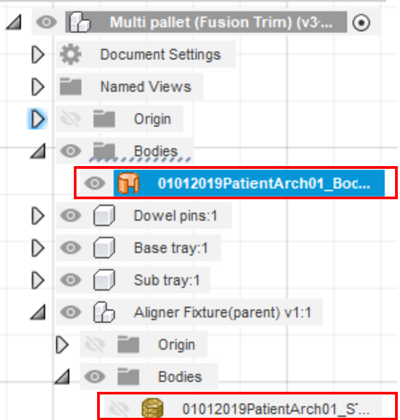 Draw your curve along the body (see tutorial on how to draw a curve)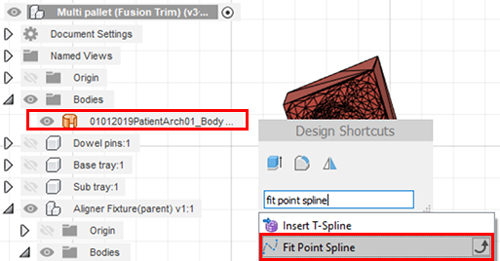 Name Curve

Copy and move curve: See tutorial

Loft together (see tutorial)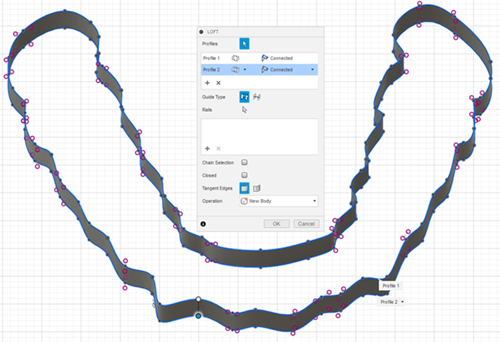 Thicken Loft body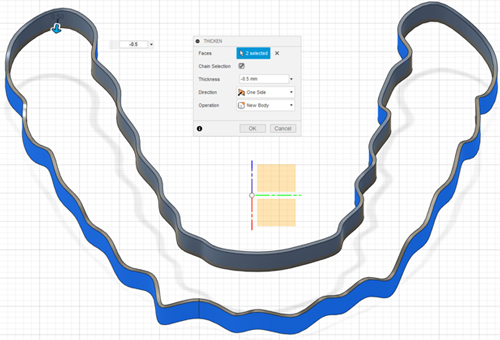 Name Guide Appropriately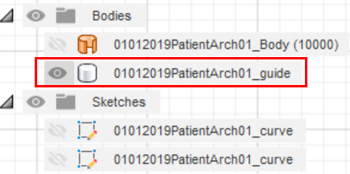 Move guide body so curve is central to guide

Repeat REDUCE/MESH/TOBREP/Curve/Guide wall for alternative mesh versions. (print mesh before reduction)
The alternative Body/Mesh/Sketch should now be located on fixtures that translate a change in the Patient aligner.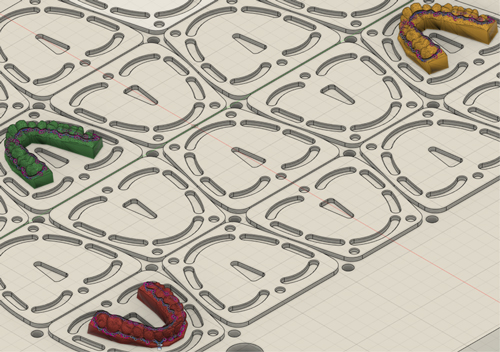 Ensure that each version is referenced to eachother.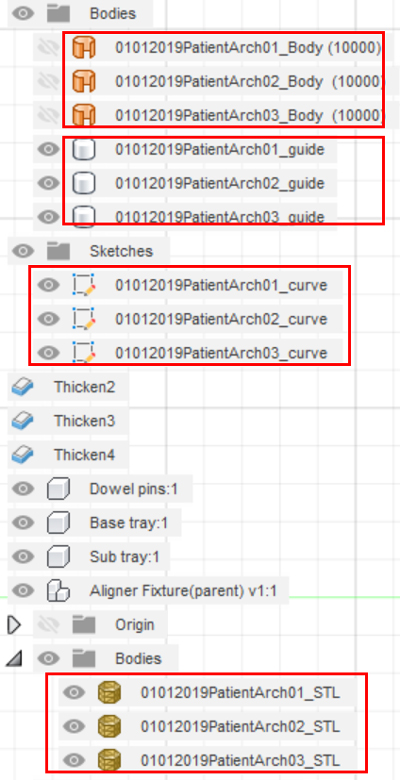 Start by adding the first set of Sketch/Guide wall/Mesh to Aligner fixture (master) component to begin Multi Aligner setup process.
Adding elements to aligner fixtures is fairly simple; achieve this by drag and dropping into selected Aligner fixture (Master) component folder.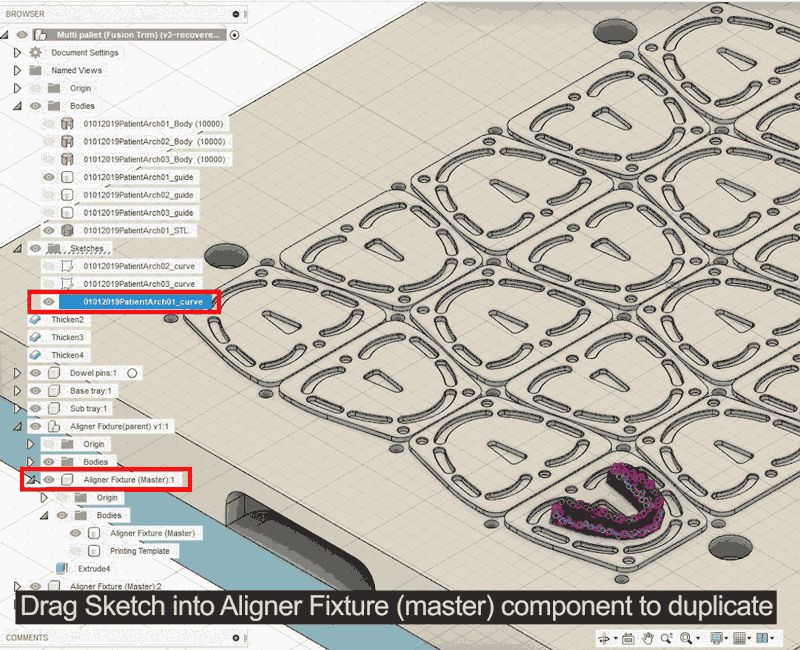 Drag Required sketch Curve into Aligner fixture(master) component folder to duplicate along field.
Drag Required Guide wall into Aligner fixture(master) component folder to duplicate along field.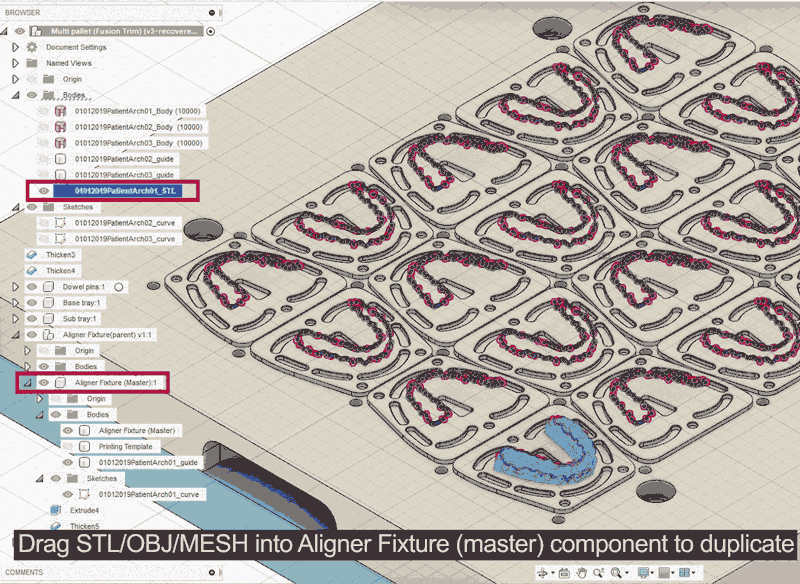 Drag Required STL/OBK/MESH into Aligner fixture(master) component folder to duplicate along field.
When adding alternative elements to the Fixture tray field; it is important to protect areas that you wish to be unchanged; as the components are mirrored copies of another, right clicking and selecting "make independent" will isolate the component allowing for changes to be made along the field.
Hold CTRL and select each component you wish to isolate, right click and select "make independent"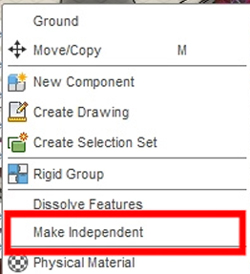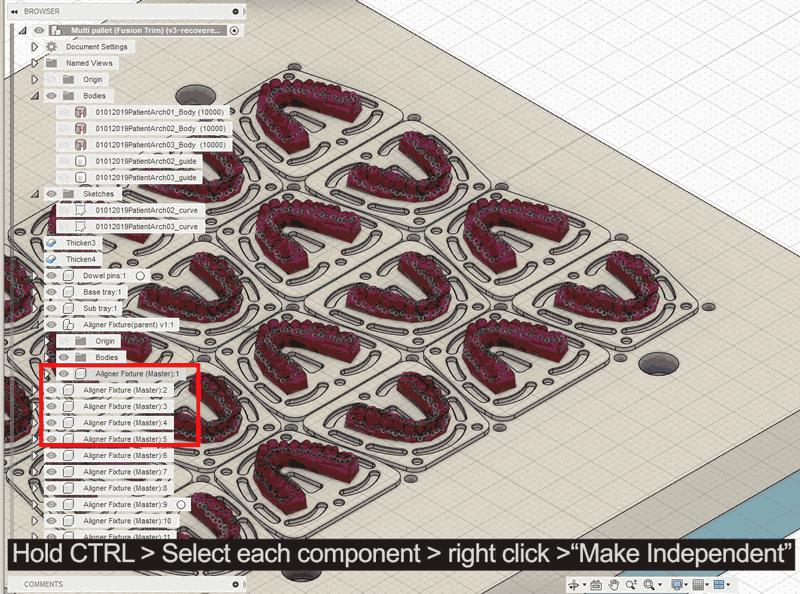 Layers that are made independent will move to the bottom of the component project layers with one exception "Aligner Fixture (Master(1):1 will remain at the top. so be aware of this when adding more elements to the component folders.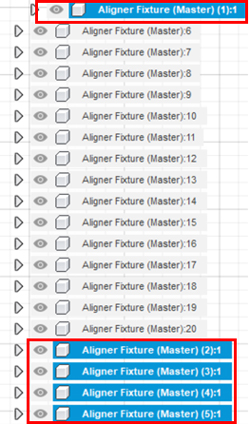 Drag existing MESH/GUIDE WALL/CURVE from the active "Aligner Fixture(master) component remove the pre-existing pattern made along the field.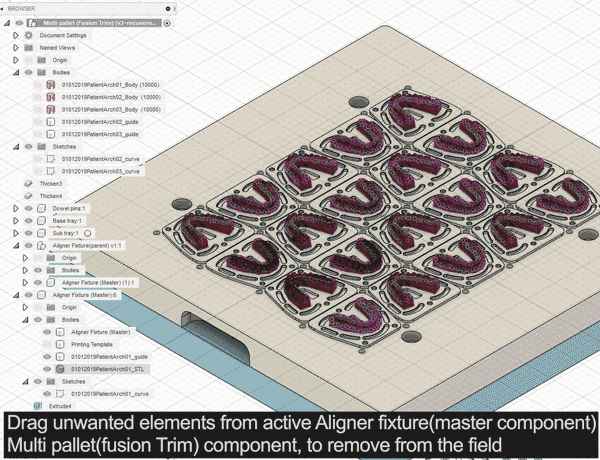 Repeat the process to add alternative Mesh/Curve/Guide wall elements with this process you are able to tweak your curve much more fluidly, and also add multiple alternative sets of STL/OBJ along the Base Fixture field, allowing for maximum degree of aligner modification.
see tutorial on how to tweak and modify curve toolpath.
once complete, now move onto programming multiple toolpaths.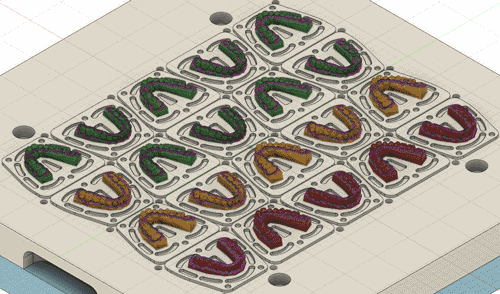 See video tutorial for Multi-Aligner setup Part 2
open Manufacture in Fusion360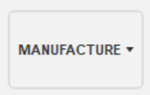 Select the "Multi-Toolpath" Setup and right click and select edit.

In "setup" select "Model" then begin selecting All "Guide wall" bodies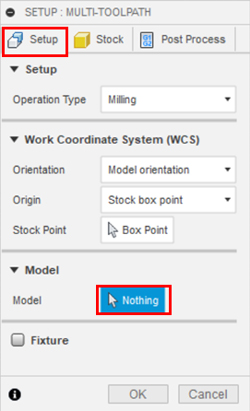 In "stock" select "from solid" then begin selecting All "Guide wall" bodies again then select "ok" to complete setup.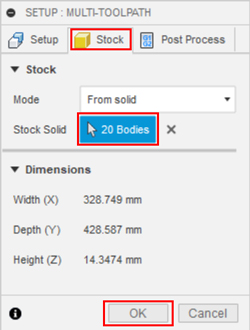 Inside this setup are 20 preset "Dental Trim" toolpaths that require one curve to be added per toolpath

Right click and select edit for the chosen toolpath.

For Tool setup and other tabs in tool setup see (Tutorial)
in "Geometry" and "Curve Selections" select the curve and ensure "model" is ticked as well as "include setup model" and click ok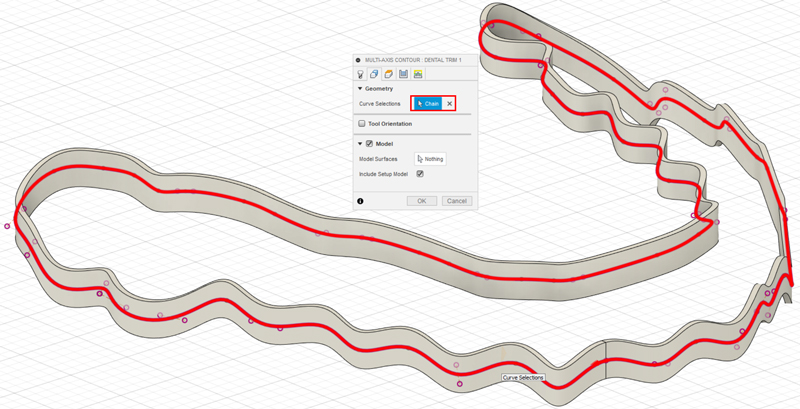 continue adding the tool path; use a pattern which the machine will follow in order to complete efficiently.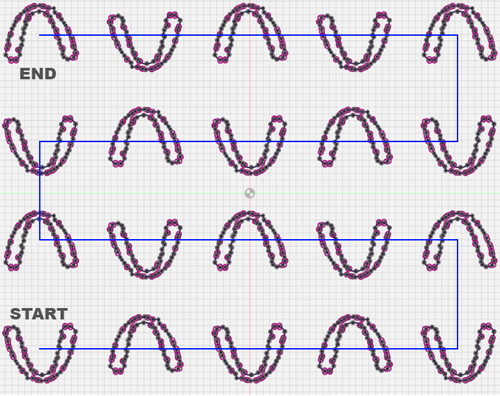 For more info on how to prepare toolpath multiple set of aligners in Fusion360 please contact
For alternative option learn how to prepare toolpath in Rhino
For more info how to run setup for multiple aligners please contact info@5axismaker.com