Skip this step if printing on external FDM printer or SLA/SLS printer
5XM FDM Extruder Overview
5AXISMAKER 5XM has both milling and printing capabilities. 5AXISMAKER 5XM FDM extruder is for printing with 1.75mm filament and has interchangeable nozzles so an optimal sized nozzle can be selected for the printing job. We found that 0.4 mm nozzle provides the best balance of detail, strength and print time for dental meshes.
5XM Milling Tool 5XM FDM Extruder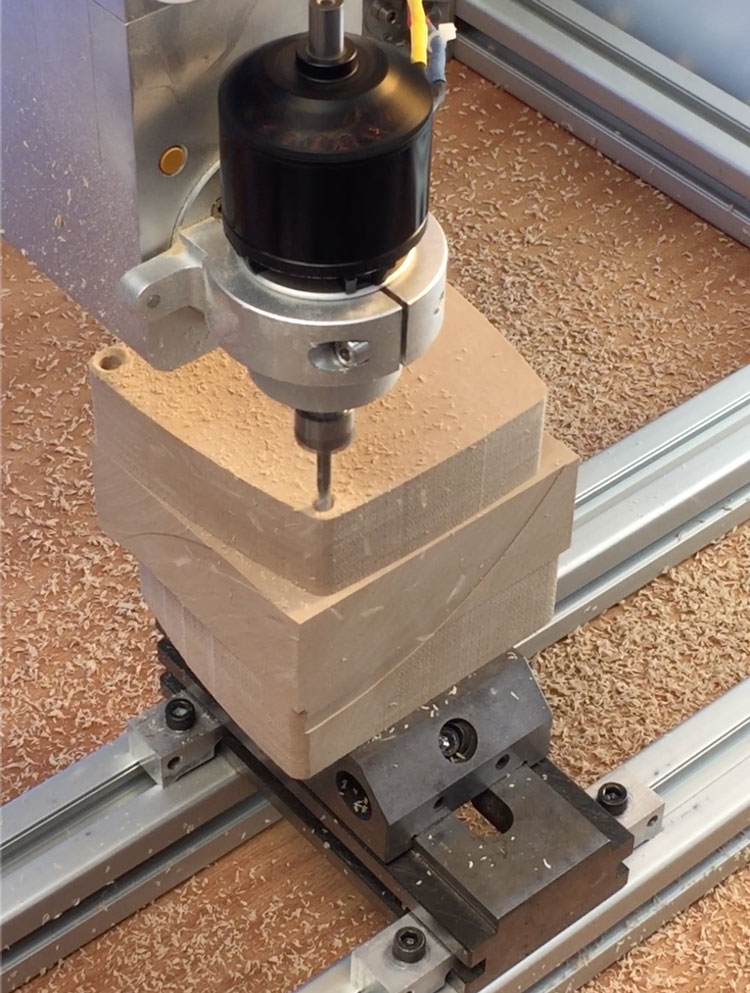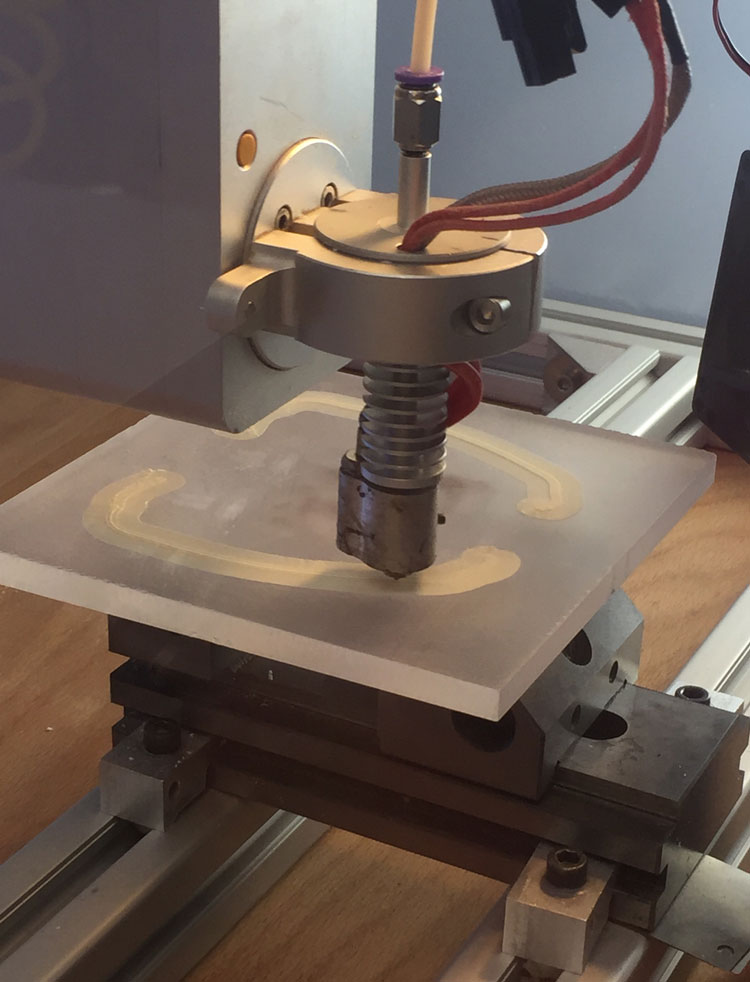 5XM FDM Hardware Setup
Prepare all hardware before printing. Attach cold end (motor) to the front right corner of the machine' frame.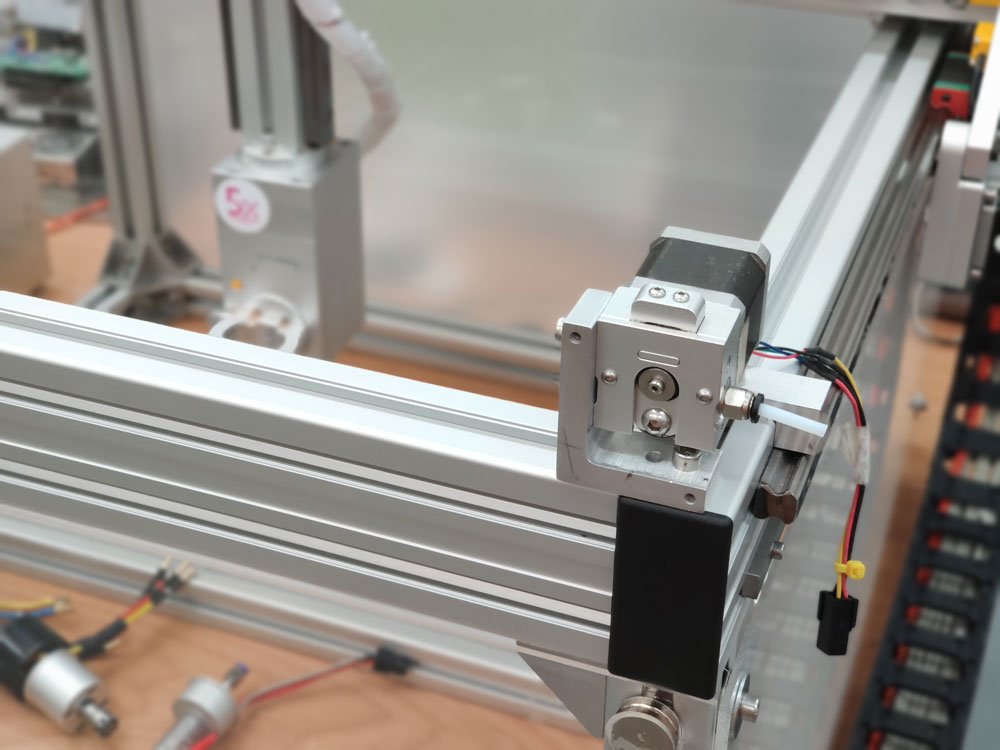 Insert extruder hot-end into BC-head bracket and tighten retaining bolt, connect cables 1, 8 and 9.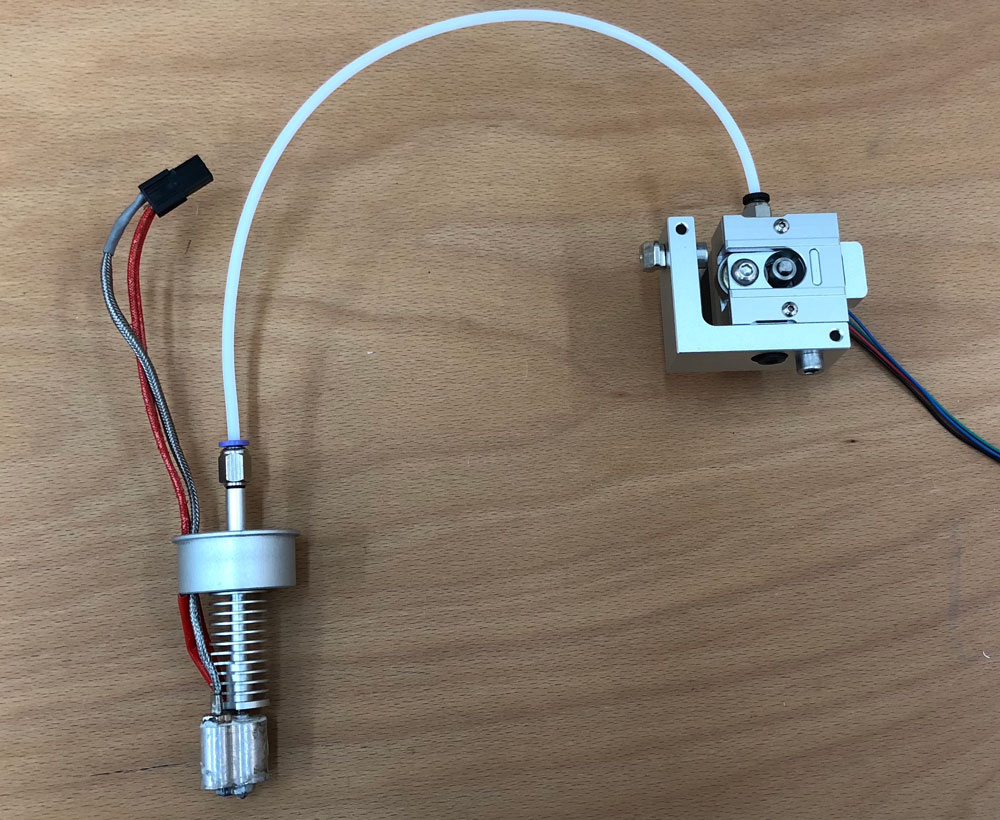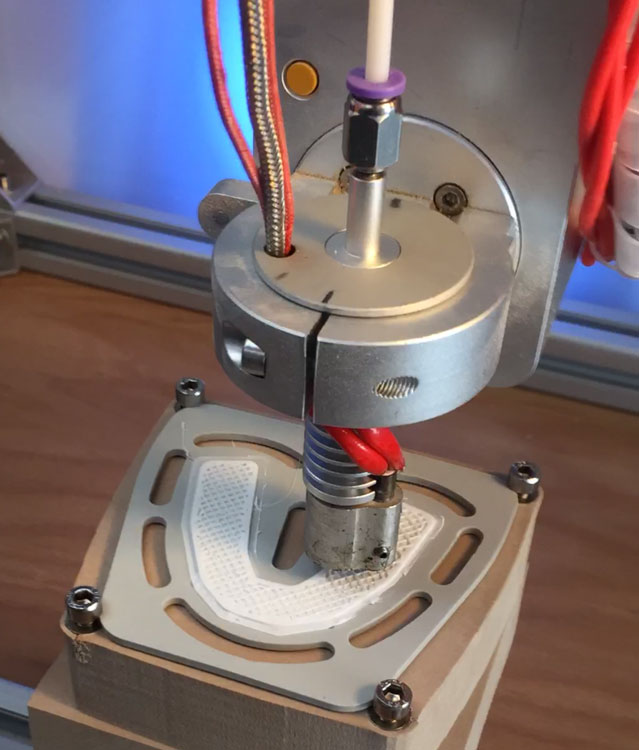 Connect Bowden tube between cold and hot end and run filament through.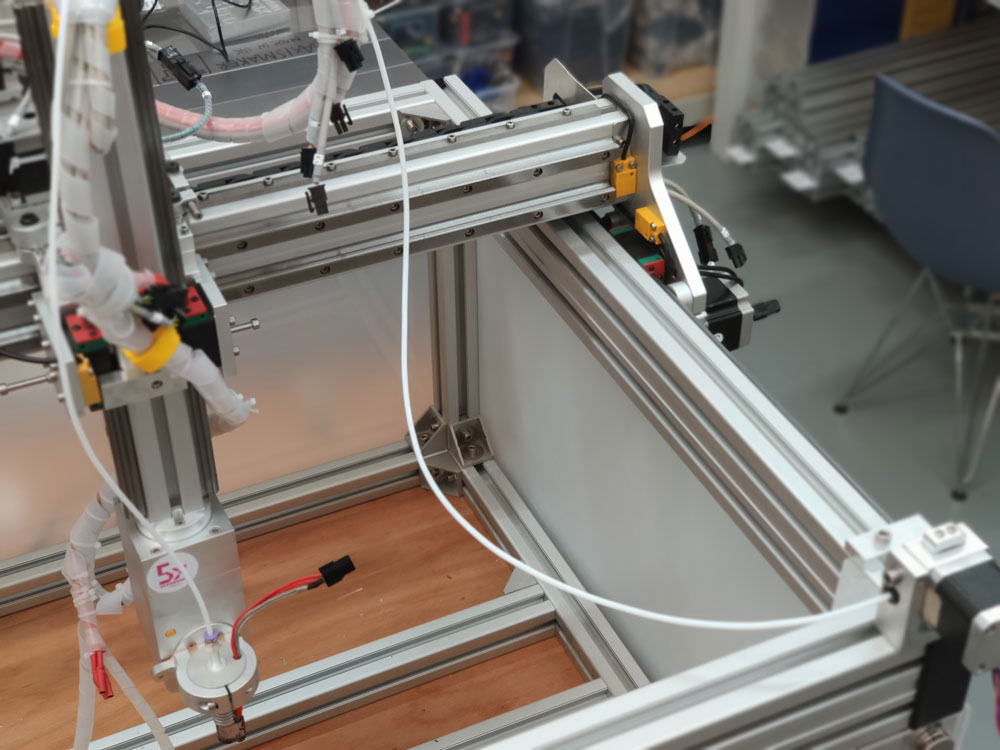 Setup PID Controller on the Electronics Box. Disconnect Cable 1, 8, 9 inside machine during setup. Switch on bottom power button. PID controller should turn on.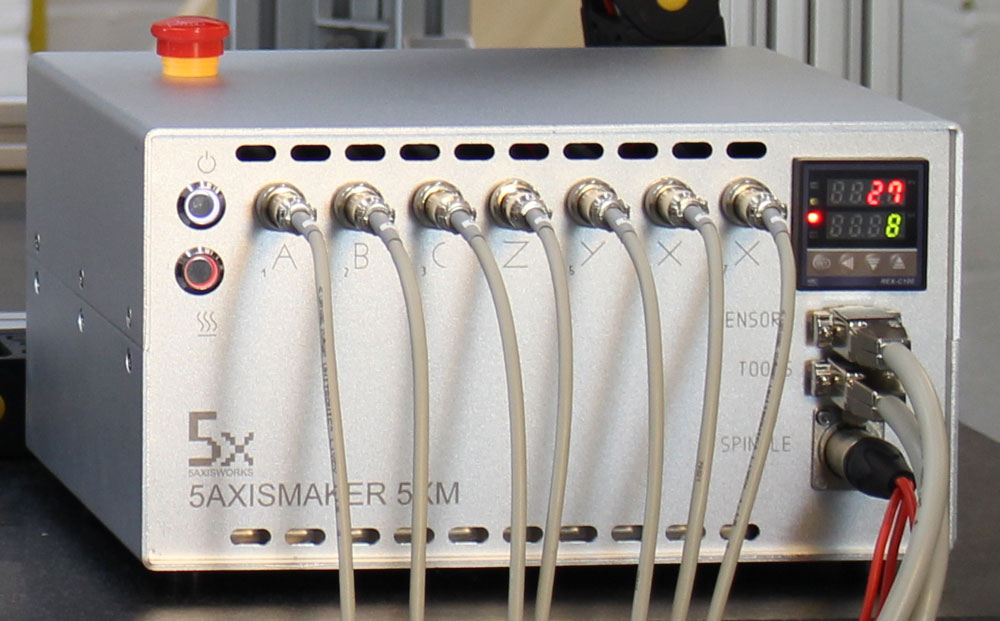 Temperature controller (PID) setup
Select your extruder temperature according to filament and printing settings.
To change temperature of your extruder, Press "Set" and set your temperature with up and down buttons. SV value shows set temperature value and PV value reflects actual temperature of your extruder.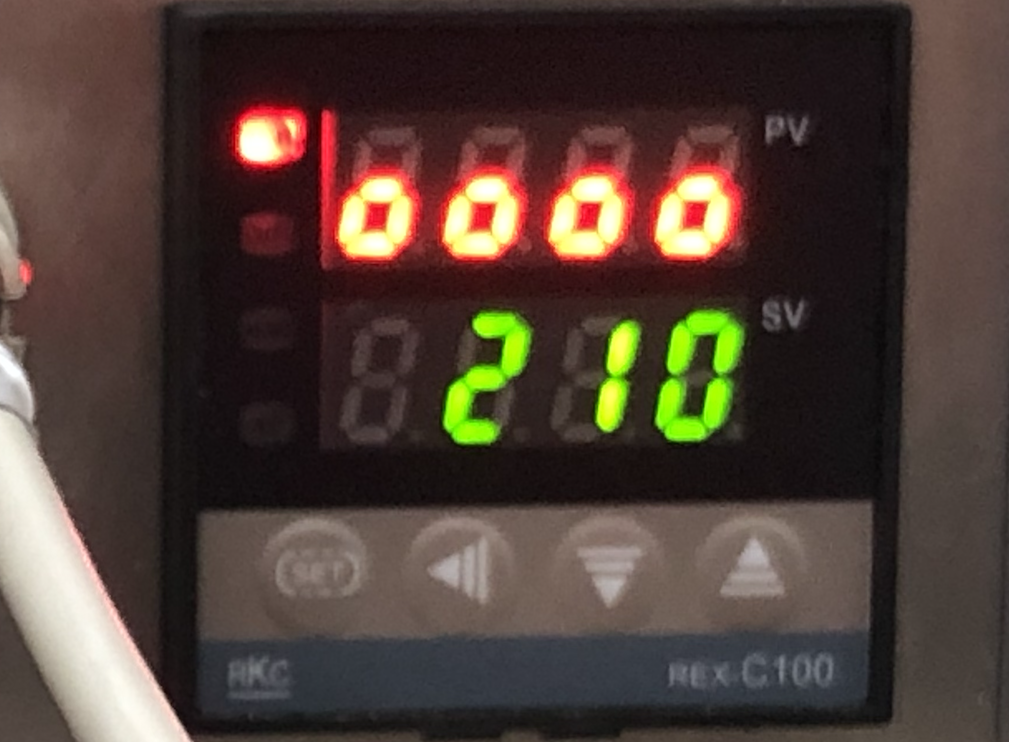 PID Autotune Settings
Before your first print its is recommended to run auto-tuning routine on your temperature controller (PID), this is usually needs to be done only once.
On PID Controller Hold and press Set until PID goes in Settings mode, change between values by additionally pressing Set and input following values with up and down arrow button (last third and fourth button).
PID Autotune Settings: AL1 50, Aru0, P101, I47, D11, Ar23, r3, oH2, SC0, LCK 1000 - once done Hold Set - the PID algorithm settings are all set. Connect cables 1, 8, 9.
Filament Overview
For our dental aligner method we tested the most readily available materials and found that PETG provides the best combination of properties for this application. There are better filaments out there but they are not as ubiquitous.
PETG is food safe type of plastic, its is most commonly used in plastic bottles, making it suitable for use with dental aligners.
PETG is a very easy filament to print, its printing behaviour is very similar to PLA. Resulting in very consistent and detailed prints.
It has very good adhesion properties and sticks to perspex printing bed/fixture very well, unlike materials like Nylon or POM, resulting in a reliable printing process.
Very importantly it machines quite well, where PLA would melt whilst coming into prolonged contact with a milling tool, causing it to wrap around the tip, heating up the plastic aligner and melting it to the print, PETG produces fine chips and a sharp finish.
And PETG is strong and heat resistant enough to withstand vacuum forming without deformation.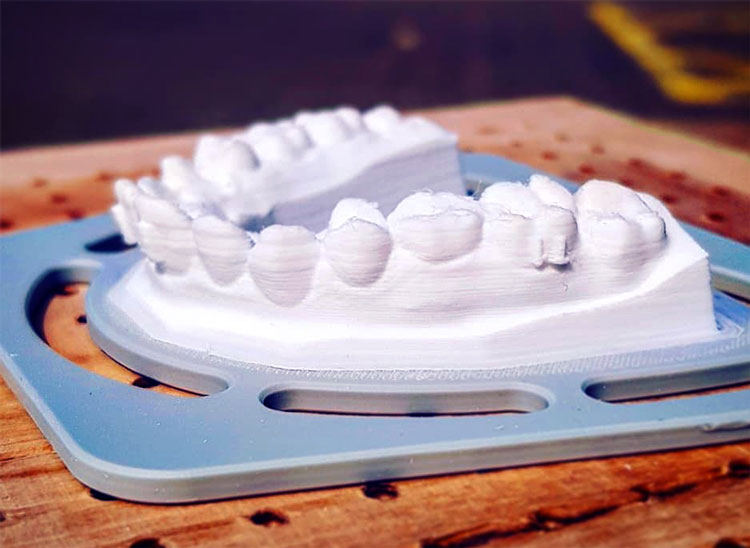 Printing on 5XM Setup:
Home the machine in this order: XYZ, BC-axis
Set your machine work coordinate system to match your fixture zero in your slicer.
Print directly on to perspex fixture
Nozzle: 0.4 printer nozzle
Filament: 1.75mm filament PETG
Temperature: 240C' first a first few base layers, drop to 220C' after initial layer adhesion.
External cooling fan may help with print warping (connect to cable 9)
Tip: having trouble with filament sticking to printing bed? Use Glue stick - it will increase the chance of adhesion at the beginning, Glue stick is an also non-toxic adhesive.